Automatically redirect to an external URL Task
Change the post format to "Link" and this will display an external URL field instead of the regular content.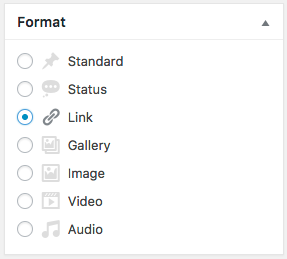 External URL auto-redirects were introduced in version 3.0.9
Tasks with an external URL will automatically redirect when clicked in any listings. Use the content area or the excerpt to describe the external link, if required. This will only ever appear in listing page excerpts across the intranet. It's still possible to categorise and tag these tasks and add them to the A to Z listing.
Auto-redirects were an idea from Peter MacDonald at RiskAdvice.com